Perhaps you have read Gabe Metcalf's piece for CityLab titled 'What's the Matter With San Francisco? The city's devastating affordability crisis has an unlikely villain—its famed progressive politics.' It goes into depth about how policies in San Francisco have lead to the current situation where one bedroom apartments are renting for $82,000 per year. Yes, policies in San Francisco and the surrounding area have lead to very high housing prices. Who is to blame? I have a hard time blaming Progressives (whatever that means these days).
I would argue that in the Bay Area, wealthy single family homeowners have had FAR more sway on maintaining exclusionary zoning and blocking new housing than San Francisco's progressive politicians. This piece dramatically understates the role of other towns and cities in the region, many of which are located on transit lines, to provide increased density. Yes, it's not NYC, but BART and Caltrain are better than what most of the country has to work with. Many of the stations on the peninsula are surrounded by one and two story buildings. Even within the City of San Francisco, the majority of residential land is zoned for single family homes. Look at the map my firm worked on with CCA's Urban Works Agency for a show at SPUR a few months ago, the large light gray areas that dominate the southern and western portion of the city are essentially suburban: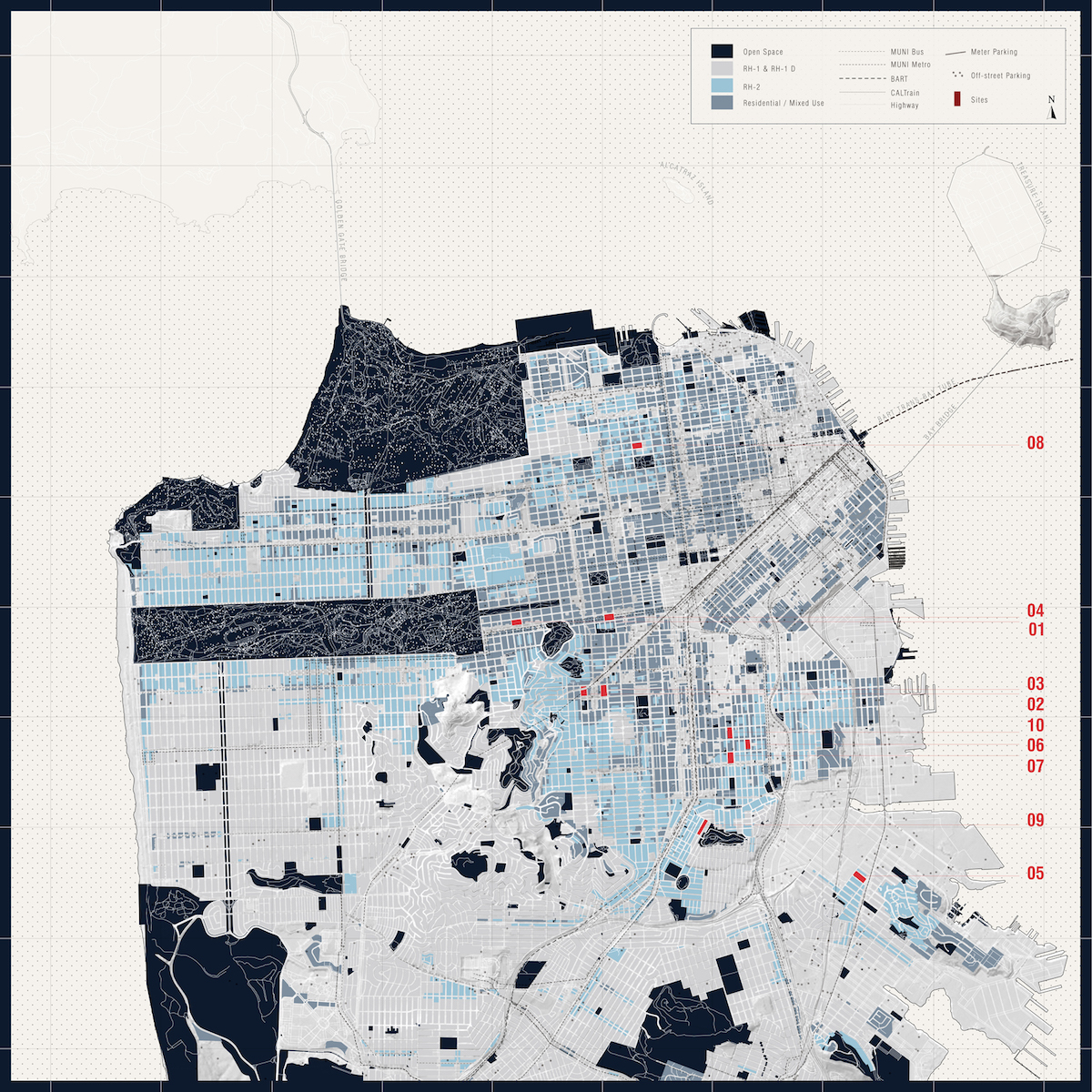 Chris Daly (arguably one of the most "Progressive" politicians San Francisco has had in recent years) helped pave the way for the massive number of new units in SOMA by brokering a community impact deal in 2005, and these units are the majority of the housing that has been created in the last 10 years. The Eastern Neighborhoods Plan, which upzoned large areas on the east side of the City, was approved by a Progressive-majority Board of Supervisors. It should also be noted that most of the areas that have been upzoned are less wealthy and more dominated by renters than the areas that are primarily single family.
The line that keeps getting repeated that we should have been building 5,000 units a year is absurd taking into account the realities of development. The math makes sense in the simplest way possible, but we all know that no developer is going to build those units at the bottom of a recession (and the economy is always cyclical), and nobody 25 years ago would have predicted the level of in-migration and income inequality we have right now- even taking the population boom that started in 1980 into account. Far more units than that have been permitted in each boom and in most cases developers have declined to build them (or deferred them until the next cycle). The fact that they haven't been built has more to do with economics than obstructionism.
I'm not saying that everything in this piece is wrong- it's clearly not – but blaming Progressives for our current situation is misdirected. There need to be regional changes to allow additional housing all over the Bay Area if we are ever going to have a serious impact on affordability. There needs to be a change similar to what is being studied in Seattle to re-think single family zoning, and this can't happen in San Francisco alone.